Learn how to use VR drawing, painting, animation and Sculpting apps to free up your workflow.
New VR Apps like Masterpiece VR, Gravity Sketch, Medium, Quill and Google's Blocks and Tiltbrush are revolutionising the design world. They allow you to design with a sense of freedom and focus that desktop software cannot provide.
In this course you will learn how to use this software withn your workflow. See how to get artwork from these apps into other software or game engines like Unity or Unreal Engine.
You can find out more about these apps on the right hand side of this page. Or, use the button below to find out about our unique 1-2-1 courses in creating VR art, sculpture and animation.
Adobe Medium (Previously Oculus)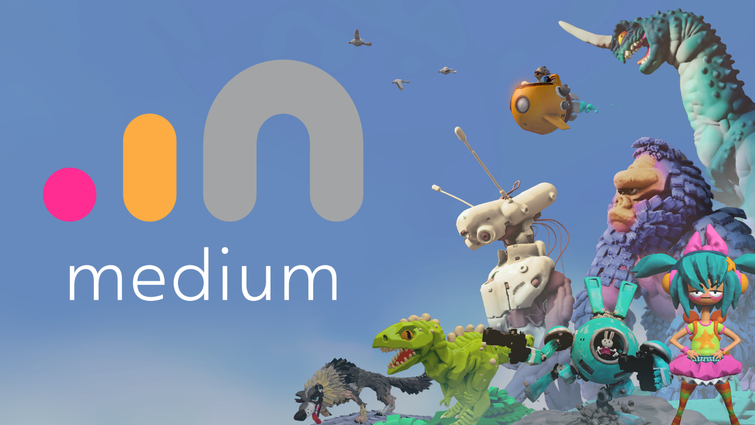 Medium lets you sculpt and paint in virtual reality. You no longer need to feel restricted by the edge of your 2D screen. It's like sculpting with real clay. The possibilities are endless. Check out some of the Artwork created using Medium on Artstation . This could be you after a day or two of training.
Tiltbrush
Tilt Brush lets you paint in 3D space with virtual reality. Your room is your canvas. Your palette is your imagination. The possibilities are endless. Check out some of the artists using Tiltbrush in their work. This could be you!
Quill
Painting and animation tool Quill 2.0 is an end-to-end solution for making full VR-native animated stories. With Quill 2.0, storytellers can now become full-fledged VR directors, in addition to creating 3D painted scenes and short animated loops.
Masterpiece VR & Motion
MasterpieceVR is a collaborative sculpting and painting tool that allows users to easily create 3D content in virtual reality.
Its sister product, Masterpiece Motion, allows you to easily rig your characters. Drawing bones in our 3D environment is quick and easy. Fully rig your model from scratch, import one that's pre-rigged, or use the auto-rig feature to accelerate this step.
Gravity Sketch
Gravity Sketch is an intuitive and immersive 3D design tool enabling designers to unleash their creativity. Quickly ideate, visualise and communicate concepts in real-time. With Gravity Sketch, your creativity is limitless.
Kanova
Kanova is the new tool for sculpting in VR that uniquely allows you to choose the format you work in – unlike other VR sculpting tools.
Use it with a headset, on desktop, or a mix of both.
Because it's based on powerful ADF technology, Kanova also gives you greater efficiency and power: zoom in to create intricate details, or zoom out and work at much larger scales.